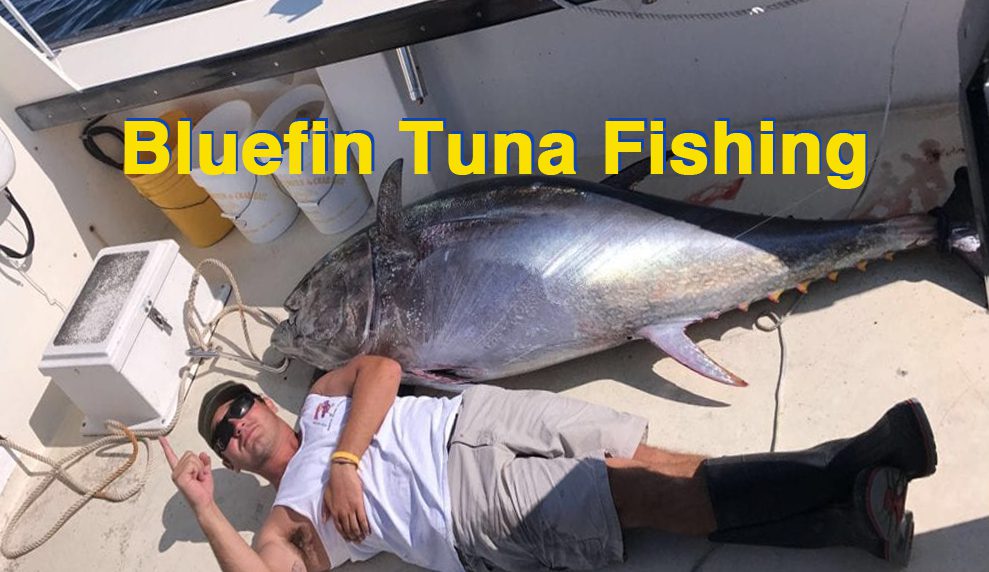 Bluefin tuna are one of the largest, fastest, and best eating fish that New England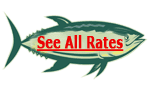 offers. They are prized among sport fishing for their fight and speed, shooting through the water with their powerful tails up to 43 miles per hour, pulling the fishing line away 200 yards from the boat. If fish were like cars, tuna would be the Ferraris of the ocean, sleek, powerful, and made for speed. Gloucester is centrally located to some of the highest yielding Bluefin Tuna Fishing grounds that New England offers. With the central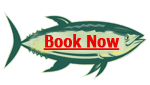 locations, we are the best with the shortest rides out of any ports, with Stellwagen bank, Jeffries Ledge, and Tillies nearby. This is why we are known as the Bluefin Capitol of the world.
Full Day 9 Hour Trip. Departure time is 5 – 6 am • $1300. This trip goes to Stellwagen Bank or Jefferys Ledge.

CASH ONLY on all trips. Please add 20% gratuity for mate/captain. All tackle included or you can bring your own. Spinning rods and reels by Penn.
School, large school, medium, and large medium tuna may only be retained if federal regulations allow. Federal regulations change from year to year and often change within the tuna season. For the latest NMFS Bluefin Tuna, HMS Permit regulations at https://hmspermits.noaa.gov/news
Bluefin are the largest tunas and can live up to 40 years. They migrate across all oceans and can dive deeper than 3,000 feet. Bluefin tuna are made for speed: built like torpedoes, have retractable fins and their eyes are set flush to their body. They are tremendous predators from the moment they hatch, seeking out schools of fish like herring, mackerel, and even eels. They hunt by sight and have the sharpest vision of any bony fish. There are three species of bluefin: Atlantic (the largest and most endangered), Pacific, and Southern. Most catches of the Atlantic bluefin tuna are taken from the Mediterranean Sea, which is the most important bluefin tuna fishery in the world.
See more information about Tuna Fishing Gloucester Massachusetts at Discover Gloucester.com.
Gloucester, Massachusetts is America's oldest working harbor with a steep maritime, art, and fishing history. It's home to the Man at the Wheel statue, St. Peter's Fiesta, Virgilo's famous St. Joseph sandwich, and the homeport for Wicked Tuna.
On February 21, 2021, Wicked Tuna premiered its 10th season on the National Geographic channel. This "monstah" of a TV series landed in the port of Gloucester, MA in 2012 which brought thousands of viewers around the world to America's oldest seaport. Each episode catches the latest adventures of actual bluefin tuna fishing captains and their crews who share their lives and real-life tales and trials of the commercial fishing industry.
Discover Gloucester has created your go-to guide for Wicked Tuna fans to discover the who, what, where, and when to catch the captains when in port, to see their fishing boats, to buy their Wicked Tuna gear, as well as to discover all that this coastal and historic city has to offer.
Meet the Captains
Who are the Wicked Tuna captains? Since 2012, the captains who reside in the historic fishing port of Gloucester, Massachusetts, have brought bluefin tuna fishing adventures worldwide. Meet Captains Dave Marciano of the Hard Merchandise and T. J. Ott of the Hot Tuna from the Q&A sessions with Discover Gloucester.
See the Boats
Throughout the year, Wicked Tuna fans flock to Gloucester for a chance to meet the captains and see their boats up close and in person. Boats are docked at Cape Ann's Marina Resort, at 7 Seas Wharf behind The Gloucester House, and in Smith Cove on Rocky Neck. Plan a tour to visit each of the boats by clicking here to use the handy online map.
Get Your Wicked Tuna Gear
Wrap up your Wicked Tuna adventures in Gloucester with some wicked cool authentic merchandise. Stop by Cape Ann's Marina Resort, The Gloucester House General Store, and The Weathervane to purchase your Wicked Tuna gear and other souvenirs for yourself or as gifts for family and friends.